Air Canada to offer new service between Edinburgh and Toronto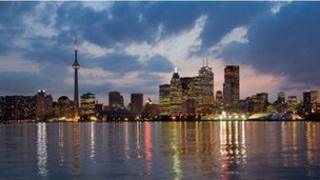 Air Canada has announced plans to operate flights between Edinburgh and Toronto.
Starting next July, it will be one of the first routes being flown by a new budget subsidiary which Air Canada has named Rouge.
Canada is one of Scotland's largest international visitor markets, with more than 100,000 visits made in 2011 and £83m injected into the economy.
The chairman of VisitScotland described the new route as "fantastic news".
Gordon Dewar, chief executive of Edinburgh Airport, said: "I've always believed that Scotland and Canada should be better served with air links and its fitting that Air Canada's new airline should launch its first services from Edinburgh.
"Our airlines tell us that they prosper at Scotland's busiest airport and I'm confident that Air Canada Rouge will be no different.
"They'll find, as others have, that our operations, our commercial understanding and our partnership working sets us apart from other airports and ensures success."
Transport Secretary Keith Brown said the new service was great news for Edinburgh and Scotland.
He added: "Canada is an important market for Scotland and the Edinburgh service will complement existing Canadian services out of Glasgow.
"Scotland's airports, together with the Scottish government's agencies, have been actively promoting Scotland to the Canadian carrier. These efforts have been rewarded by seeing the new carrier operating to Edinburgh from July next year."
VisitScotland chairman Mike Cantlay said: "These new flights are fantastic news for Scotland, particularly as we prepare to welcome the world in 2014, when we host Homecoming, the Commonwealth Games and the Ryder Cup.
"I met with Vijay Bathija of Air Canada last week and VisitScotland has been working in partnership with them for some time to bring this important direct connection to Scotland.
"Since the days of the earliest settlers, Canada and Scotland have enjoyed a strong relationship, with more than four million Canadians claiming Scottish ancestry."
He added: "Imagine the potential for these new flights to welcome more Canadians to discover, or rediscover, exactly what our country has to offer."
Three flights a week will operate to Toronto Pearson International Airport between 3 July and 18 October 2013.