Dana Petroleum £1bn development gets go-ahead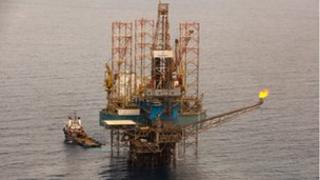 Aberdeen-based oil firm Dana Petroleum has been given the green light to develop two oil fields in UK waters.
The $1.6bn (£1bn) development is for nine wells in the already discovered Harris and Barra fields, about 100 miles East of Shetland.
It is estimated they contain recoverable oil reserves of more than 45 million barrels.
Dr Marcus Richards, Dana's chief executive, said project was "at the heart of our growth strategy."
He added: "Unlocking the potential of these new fields is a significant milestone as we aim to double our production to 100,000 barrels a day by 2016."
The company said the development was made possible by announcements from the Treasury this year "to support oil and gas companies operating in the North Sea".
Daily production from the fields is expected to start in 2015.
The Economic Secretary to the UK Treasury, Sajid Javid said: "The North Sea is a vital national asset, with oil and gas production supporting a third of a million jobs.
"That is why this government has announced a range of tax measures expected to generate billions of new investment and create jobs. Dana's announcement today is a further endorsement of that strategy."
The industry body Oil and Gas UK welcomed the development - but chief executive Malcolm Webb had a warning.
He said: "Government recognition of the importance of our oil and gas production for the economy and Britain's energy security and close engagement with the Treasury has resulted in a raft of new projects being announced on the UK continental shelf.
"However, exploration is still worryingly low and we need to do more to reverse the production decline."
Scottish Energy Minister Fergus Ewing said: "Scotland is a world leader in oil and gas and has been for five decades. Today's announcement that Dana Petroleum can take forward their £1bn North Sea development demonstrates the continuing growth of Scotland's energy sector."
"With 24 billion barrels of oil still to be recovered with a value of 1.5 trillion pounds, North Sea oil and gas is attracting record investment levels with capital investment of £8.5bn in 2011 and an expected £11.5bn in 2012.
"This announcement will ensure that Dana Petroleum can invest further in Scotland and capitalise on the economic potential of these reserves, which will remain an enormous economic resource for decades to come."