Power firm Aggreko warns of lower revenues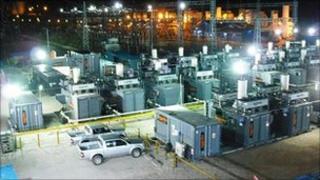 Shares fell at temporary power firm, Aggreko, after it warned of lower sales on the back of military spending cuts in Afghanistan.
The company said a lack of major events during 2013 and uncertainty over some Japanese contracts could also hit its performance in 2013.
Aggreko which rents out temporary power generators said its performance for the current year would be as expected.
The company's share price ended down 22% after the warning on its outlook.
This is the second warning the company has issued this year.
In October it said bad debts and a currency hit would impact full-year profits by 2.5%.
Aggreko had previously announced that it had benefited by £59m from its contract to supply power for the London 2012 Olympic Games.
In a trading update the group said "after a year of strong growth in 2012, the economic environment we will be facing in 2013 is particularly uncertain in many of our markets and it is difficult at this stage to provide a definitive view of the likely pattern of trading in 2013".
The company said it expected revenue to be "around £100m lower in 2013 than in 2012".
However it said taking a number of steps to respond to weakening demand.