Scottish house prices 'set to remain flat', surveyors expect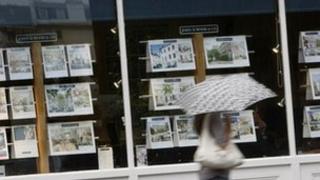 Surveyors expect house prices to remain flat next year, with only a modest rise in the number of transactions in Scotland, and rental prices rising.
The Royal Institute of Chartered Surveyors (Rics) said the number of sales could rise by 4%, from 74,000 to 77,000.
However, that would be only about half the level of transactions compared with the buoyant market five years ago.
Rics expects Scotland will not join some UK areas in seeing price rises.
These include outer London, the south east and the north west of England.
Sarah Speirs, director of Rics Scotland, said: "The average house price in Scotland looks set to remain close to current levels throughout 2013, reflecting in part the uncertain outlook for the economy.
"More positively, the amount of sales going through should see an increase across the country, climbing to its best level since 2008, as lenders look to gradually increase the availability of mortgage finance.
"But these tentative signs of recovery in the sales market should not blind us to the very real problems that still exist.
"Even with government policies beginning to be felt in the mortgage market, many first-time buyers will continue to find it difficult to secure a sufficiently large loan to take an initial step on the housing market.
"Meanwhile, the alternative of renting is becoming more and more costly with a further increase in rents likely in 2013."