Scottish Power plans for Glasgow headquarters reworked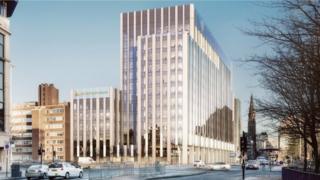 Scottish Power has altered its plans for a major new headquarters building in the middle of Glasgow.
The energy utility made the changes to the exterior and to floor lay-out ahead of lodging its planning application.
It said that construction work on the gap site, which is next to the M8 at Charing Cross, could begin within nine months.
Designed for as many as 1,900 Scottish Power staff, it is scheduled for completion by 2015.
Scottish Power said the new headquarters would provide a central base to help the business continue to grow.
Ignacio Galan, chairman of Iberdrola and Scottish Power, added: "We have major investments planned here in the coming years, with £3.5bn being invested between 2012 and 2014 alone.
"Our company and our industry will play a central role in helping to boost the economy by offering highly skilled employment for thousands of people.
"This new office complex will be the central hub that allows us to deliver and manage these investments.
"We have always stated that Glasgow would remain as the central location for our company in the UK and our new development reaffirms our commitment to the city."
It is understood that the project is worth about £80m, with Scottish Power agreeing a 25-year lease agreement to occupy the new complex. The energy firm already owns the land.
The 220,000 sq ft complex, which will overlook the M8 motorway and Kingston Bridge, will replace current office locations in Falkirk, and Cathcart and Yoker in Glasgow.
The site was previously part of the headquarters of Strathclyde Regional Council, which was abolished following local government re-organisation in 1996.