Unemployment in Scotland falls by 19,000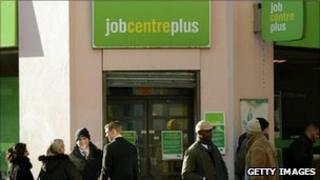 Unemployment in Scotland fell by 19,000 to 204,000 over the latest three-month period, according to Office for National Statistics (ONS) figures.
The Scottish unemployment rate now stands at 7.6%, below the UK average of 7.8%.
However, the labour market statistics also showed employment in Scotland fell by 27,000 over the same quarter from August to October.
The number of those in employment now stands at 2,463,000.
Finance Secretary John Swinney said the statistics showed the largest fall in the unemployment rate in Scotland since early 2008.
The youth unemployment rate - which covers 16 to 24-year-olds - fell by 4.3% over the year to 21.1%, slightly below the UK rate.
The number of people claiming Job Seekers Allowance went down by 1,100 from October to 139,500 in November - 3,100 fewer than the same period last year.
Youth unemployment
Mr Swinney said: "We welcome this fall in unemployment over the quarter and the substantial drop in youth unemployment over the year in particular.
"These figures mean the headline jobless rate now at its lowest in almost three years, but more still needs to be done, particularly in light of the fall in employment."
Mr Swinney stressed that tackling youth unemployment remained a priority, and the Scottish government was investing a total of £80m in creating opportunities for young people.
He added: "However, Scotland needs its own economic and financial powers to allow us to follow a uniquely Scottish approach that will bring much needed jobs and investment for a prosperous future for all."
Scottish Secretary Michael Moore said he welcomed the fall in unemployment.
He added: "We are not complacent and this is why we set out a package of measures in the autumn statement last week to protect the economy, support growth and ensure fairness while maintaining the crucial fiscal strategy.
"As a result of these targeted growth measures, the Scottish government will receive more than £300m of new money - in addition to the £1bn it has already received since the spending review - all of which it can invest in shovel-ready projects."
'Grim tidings'
Scottish Labour's finance spokesman Ken Macintosh said the figures offered a "welcome glimmer of Christmas cheer for some" but "grim tidings for far too many."
He added: "There are still four people chasing every vacancy and more than one-in-four young people are out of work.
"What is most worrying is that the Scottish government seems like an ineffectual spectator in all of this. It is difficult to see any particular interventions that they are taking that are making any difference to unemployment in Scotland."
The Scottish Chambers of Commerce said the conflicting figures underlined the challenges that continued to face businesses in Scotland.
Chief executive Liz Cameron commented: "Our priority must be to focus support on businesses and job creation over the next two years and we cannot afford any distraction from this task."
She added: "Government must do more to reduce burdens on business and remove the barriers to growth if this is to succeed."
The Federation of Small Businesses in Scotland said the fall in unemployment was good news but added that the drop in the proportion of people in work suggested the economy "still isn't firing on all cylinders".
Scottish policy convener Andy Willox said: "There's still work to be done to get Scotland's small business economy moving, helping our members and the wider small enterprise community do what it does best - create jobs, opportunities and driving growth."
Scottish Trades Union Congress general secretary Grahame Smith said the statistics provided "no cause for complacency".
He added: "The fall in unemployment is attributable to people leaving the workforce, not entering jobs.
"This process is particularly severe for women - there are now 50,000 more economically inactive women than this time last year.
"The STUC believes the labour market will remain weak through 2013 and beyond."