Oil firm Tullow sells North Sea gas assets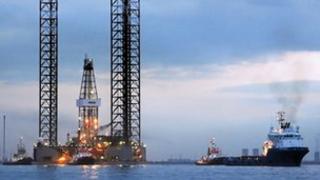 Tullow Oil has announced plans to sell off its gas exploration, development and production assets in the UK and Dutch Southern North Sea.
The assets together account for about 18,000 barrels of oil equivalent a day.
About 12,000 barrels come from offshore UK locations including the CMS and Thames-Hewett areas.
The company said it was pressing ahead with the sell-off as they were non-core assets which no longer fitted within its light oil-focused portfolio.
London-based Tullow hopes to complete the sale by the end of 2013.
Meanwhile, the group also announced it was buying Norwegian exploration company Spring Energy Norway for just over $372m (£231m).
Tullow chief executive Aidan Heavey said: "Active portfolio management is a key part of Tullow's exploration-led strategy.
"These transactions are part of an ongoing process of carefully refocusing our business and ensuring efficient allocation of capital by monetising non-core assets and re-investing the proceeds in high potential oil exploration.
"Our Southern North Sea gas assets are therefore no longer core to Tullow's business, which has a clear focus on light oil in Africa and the Atlantic Margins. "
He added: "The acquisition of Spring adds a material portfolio of oil exploration assets and high quality people that will provide a superb foundation for building our portfolio and expertise in the highly prospective North Atlantic."