Scots retailers report 'underwhelming' November sales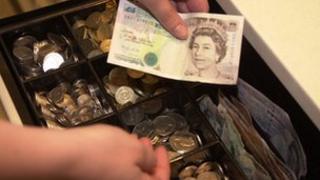 Sales failed to take off on the high street last month despite growing consumer confidence, according to a retail survey.
The Scottish Retail Consortium (SRC) said total sales fell by 1.2% on the same period last year.
Taking account of shop price inflation, revenues were down 2.7% in real terms.
SRC described the figures as "underwhelming", blaming the fall on poor weather and shoppers waiting for promotions and discounts before buying.
The latest data, compiled in association with KPMG, showed total food sales were 2.6% higher than November 2011 - but 2% down in real terms.
SRC said consumers were attempting to spread the cost of festive food, with sales of Christmas puddings starting earlier than last year.
It added that supermarkets were displaying "ugly fruit and veg" to help farmers sell their crops, despite poor growing conditions, and shield shoppers from price increases on fresh food.
Meanwhile, total non-food sales fell by 4.7% on a year earlier, with clothing and footwear posting its second worst performance since January.
'Challenging year'
SRC director Fiona Moriarty said: "These underwhelming figures, which scarcely improve on October, mark the closing stages of what has been a challenging year for retailers in Scotland.
"Consumer confidence is stronger but this has yet to kick-start sales growth.
"While there's not much cause for cheer in November's figures, retailers have been reporting increased sales in recent weeks, suggesting that the public mood is shifting as the festive season approaches."
She added: "With Christmas falling on a Tuesday this year, many may sense that having a full shopping weekend two days before Christmas gives them more time to round off their buying.
"Retailers will be hoping that, in the end, these factors translate into a merry Christmas."