Glasgow Airport reports busiest November for four years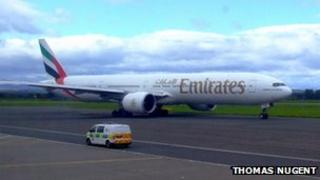 Glasgow Airport has reported its busiest November for four years, boosted by strong growth in both domestic and international traffic.
Almost 500,000 passengers travelled through Glasgow during the month, up by 5.3% on the same period last year.
The airport said domestic traffic was helped by British Airways' decision to add additional Heathrow capacity.
International growth was in part driven by Emirates' recent introduction of a double daily service to Dubai.
Glasgow Airport managing director Amanda McMillan said: "To have enjoyed our busiest November in four years, and to see both domestic and international services performing well, is very encouraging.
"We have been buoyed by some very positive recent announcements and remain committed to further strengthening Glasgow's connectivity by growing our route network."
Last month Barrhead Travel announced it would double capacity at Glasgow for its 2013 summer programme, while CI Travel revealed it would launch Scotland's only direct link with Guernsey.
Business aviation services firm Gama Aviation also revealed plans to invest £3.5m in a dedicated aviation hangar at Glasgow, which will allow the company to provide an aircraft handling terminal and improve maintenance capabilities.
Glasgow is owned by Heathrow Airport Holdings, formerly known as BAA, which also operates Aberdeen Airport.
Aberdeen reported growth of nearly 5% last month, with both domestic and international traffic rising.
Domestic passenger numbers climbed by 9.1%, while international traffic grew by 7.2%. However, the number of helicopter passengers fell by 13.4%.
Edinburgh traffic
Meanwhile, Edinburgh Airport reported a year-on-year fall in passenger numbers for November.
Just over 631,321 passengers travelled through the airport, a drop of 1.7% on the previous year.
Although domestic traffic returned to growth, international traffic fell by 6.8% as cuts announced by Ryanair, following a dispute with former owners BAA earlier this year, began to bite.
Last week the airport, which is owned by Global Infrastructure Partners, announced it had struck a new deal with Ryanair which will see the low-cost carrier establish new routes to Bologna, Beziers, Cagliari, Corfu, Katowice and Santander.
The airline is also increasing the frequency of flights on five other routes from Edinburgh.
Edinburgh Airport chief executive Gordon Dewar said: "Clearly, I'm happy to see our domestic performance come back into growth, but this is tempered with disappointment at the temporary decline in international traffic.
"We always knew that Ryanair's cuts would bite and they have."