PwC football report shows loss by SPL clubs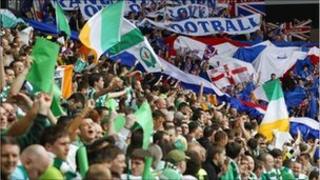 Scotland's leading football clubs returned an overall loss in the 2010/2011 season, according to accountants PwC.
Its annual financial review of the Scottish Premier League (SPL) showed a sharp turnaround from the collective profit of £2m in the previous year.
PwC identified a number of factors leading to the loss.
These included a decline in disposable household incomes and a fall in the SPL's income from television.
David Glenn, a tax partner at PwC Scotland, wrote the report, which refers to the season before last and uses the clubs' audited accounts.
He said: "At first glance, it appears as though the SPL only made a slight loss of £2.5m during the 2010/11, but on delving a little deeper, stripping out one-off events such as the Hearts' debt forgiveness of £7.8m, the true underlying loss of £11.9m is exposed.
"We have an environment where to play at the top level requires significant investment with no certainty of success.
"Adopting a strategy of 'speculate to accumulate' can be extremely dangerous when success - defined as being a successful European campaign with the resulting income - may be thwarted at the first hurdle."
The PwC report said 2010/11 was a season of tumult and media headlines, in particular with the purchase of Rangers by Craig Whyte.
The club's financial problems have since seen it demoted from the SPL into the Third Division.
Mr Glen said: "The departure of Rangers from the SPL - and their fan base from games - will have a major impact on the finances of their former competitors, with the loss to Celtic alone forecast at £2m.
"It has also brought back into sharp focus the reliance by some clubs on lucrative TV deals, and with the current deal now renegotiated again following the departure of Rangers, we may yet see a further hit to club's revenues."
However, he added: "But it's not all downbeat - for some clubs, there may be a flicker of financial good fortune.
"The return of the Dundee Derby may prove fruitful for the city's clubs and the arrival of Ross County into the SPL could also generate additional local interest."
Other findings highlighted by the report included:
16,000 fewer people attended SPL matches throughout the season. This followed a shock 10% drop in 2009/10, the biggest since the SPL was established.
For the first time since 2005/06, overall wage costs have dropped below the £100m barrier.
St Mirren reduced its wage bill by 25%
Six teams reported an increase in turnover, more than in previous seasons - Motherwell (36%) and Inverness (76%) showed the most significant rises. Inverness because they had been promoted.