Scottish independence: 'Havoc' warning from pensions firm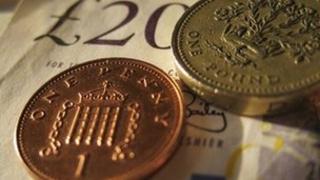 A leading pensions advice firm has voiced concerns about what it calls the "havoc" that may be wreaked on clients' finances by Scottish independence.
Punter Southall, with offices in Edinburgh and Aberdeen, has highlighted what it says are possible threats to the retirement plans of Scots.
It said clients had raised their own concerns should the 2014 referendum result be a "yes".
The Yes Scotland campaign said the company was "scaremongering".
Punter Southall outlined a number of concerns raised by clients in a statement released on Friday.
These included the possibility that employers could re-locate south of the Border, citing comments recently by the chairman of Royal Bank of Scotland that it may not stay in Scotland if the tax regime becomes unattractive.
Clients have also told the actuarial and investment firm that they are concerned a corporate "brain-drain" could lead to higher unemployment and a less "pensioned" population.
They have raised the possibility of less cross-subsidy within UK pension schemes, and "a regulatory black hole" where Scottish pensions are currently regulated by UK-wide bodes.
Gerry Devenney, head of Punter Southall's Edinburgh office, said: "There has been a marked upturn in concerns raised by our clients over just what independence would mean for them and their members.
"As it stands, independence could wreak havoc on pensions in Scotland. There are too many imponderables and too many unanswered questions. The longer this remains the case, and the nearer we get to the vote, the deeper the concern will be for the future of pensions in Scotland."
A spokesman for Yes Scotland said: "This sounds like yet more scaremongering. Your pension agreement is with a private company and your rights would be unaffected by independence."
Mr Devenney has written to First Minister Alex Salmond asking for answers to the points he has been raising and asking also whether the SNP intends to reverse the recent merger of the long-established professional body for Scottish actuaries.
Punter Southall has 800 UK staff in pensions, financial and actuarial advice. It claims to have 4,000 private clients and 1.5 million private sector pension scheme members, with assets worth around £90bn.