ScotRail workers vote for strike action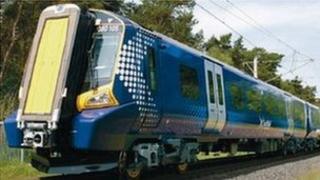 ScotRail workers have voted to go on strike in a row over the dismissal of a union member.
The Rail, Maritime and Transport union said there was an overwhelming vote in favour of action among 2,000 employees.
The union claims one of its members was sacked after trying to make sure a passenger had the correct ticket for a journey.
ScotRail called the decision "deeply disappointing" and said only 548 of 819 RMT members who voted backed a strike.
There was a bigger majority for action short of a strike.
The RMT held the ballot after claiming one of its members was dismissed by Scotrail for allegedly making "unwanted contact" with a passenger.
RMT general secretary Bob Crow said the union member had been "victimised and sacked for trying to help a passenger within the written procedures set out in ScotRail's own policies".
He added: "RMT members will not sit back and watch while their colleagues are picked off in this fashion by a management who think that they can fire staff without a single shred of evidence to support their case, and that is why they have delivered this overwhelming mandate for action in this ballot."
The union's executive will consider its next move following the ballot result.
'Deeply disappointing'
A ScotRail spokesman said: "The decision is deeply disappointing, especially when only 24% of the membership are in favour of a strike.
"We also believe staff were misled by the union because it declared in a leaflet with the ballot paper that management had refused to produce CCTV evidence to back up their claims.
"But the union was shown CCTV on three separate occasions. And the images reveal that standards of conduct fell well below what we expect.
"In addition, our stated grounds for dismissal did not include allegations - let alone references - to 'unwanted contact' with a passenger."
He continued: "The images underpin the dismissal on grounds of intimidating and aggressive behaviour towards a passenger, who was reduced to tears during the incident.
"If anyone believes such conduct towards a customer is acceptable - let alone worthy of a strike - then they are in the wrong job. The ticket examiner also had a compete disregard of correct ticket procedures."
The spokesman added: "It is also disappointing that the RMT is set to cause as much inconvenience as possible to our customers following a ballot in which some 65% of the members did not vote - and, overall, less than one in four took part.
"We will now put contingency plans in place to run as many services as possible and, of course, remain available for meaningful talks with the RMT at any time."