Glasgow's Gaia-Wind tops Sunday Times fast-growth list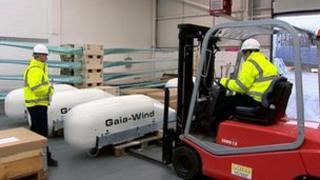 Wind turbine maker Gaia-Wind has been ranked as the fastest-growing private firm in Scotland by the Sunday Times.
The Glasgow-based business was one of six Scottish companies to feature in the paper's Fast Track 100, which ranks UK firms with the fastest-growing sales over the last three years.
Gaia's sales grew 168% a year from 2008 to reach £6.7m in 2011.
This year it installed 350 wind turbines for farmers, breweries, golf clubs and small businesses.
The energy firm ranked 8th in the top 100 list, 21 places ahead of the second fastest-growing Scottish firm, Aberdeenshire-based brewery BrewDog.
Brewdog, which was founded in 2007 by James Watt and Martin Dickie, saw sales grow by 96% a year from 2008 to stand at £5.9m in 2011.
The other four Scottish firms in the top 100 were Falkirk-based consumer electronics recycler Redeem (41st), Edinburgh wellington boot retailer Hunter Boot (47th), travel firm Barrhead Travel (54th) and Glasgow-based generator supplier and installer Dieselec Thistle (56th).
The Scottish firms listed have combined sales of £187m and employ 800 people, having added 330 jobs in the last three years.
Gaia chief executive Johnnie Andringa said: "In part, at Gaia-Wind we are benefitting from the effect of massive retail energy price rises.
"Rural householders, business and farms are finding that with an easily affordable small wind turbine they can play a 'three-card trick', to achieve 'energy independence' from spiraling energy costs."
The top 100 list is compiled by Oxford-based research company Fast Track.