Trunk road contracts awarded after court delay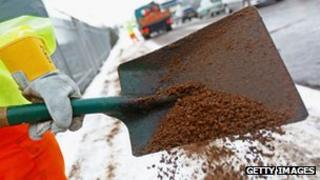 Transport Scotland has awarded two trunk road maintenance contracts worth £230m, following a successful bid to have a court suspension lifted.
In October Bear Scotland and Scotland Transerv were awarded contracts for the north west and south west respectively.
But the deals were suspended after unsuccessful bidder Amey contested the decisions in court.
Transport Scotland had rejected Amey's bids for both areas on the grounds that they were abnormally low.
Amey told BBC Scotland it was "unable to comment" about the latest development.
Following the lifting of the court-imposed suspension, Bear Scotland will become responsible for overseeing 814 miles of trunk roads in the north west of Scotland.
Perth-based Scotland TranServ, which held the north west contract, is to take over management of 443 miles of roads from Amey in south west Scotland. Transerv is a joint venture between the Balfour Beatty Group and the Mouchel Group.
'Jobs supported'
Transport Minister Keith Brown said the contracts, worth a combined £230m, would directly support about 500 jobs in Scotland.
He added: "The lifting of the suspension has allowed us to award these contracts, which means the mobilisation period can commence immediately and enables us to move towards a formal commencement of service date of 1 April 2013.
"We are confident these bids will continue to deliver both a high quality and value for money trunk road maintenance service."
Bear Scotland managing director Brian Gordon said: "The outcome of the legal proceedings means that we are now able to get our mobilisation programme under way so that we have the people, supply chain, infrastructure and necessary plant in place to take on responsibility for managing and maintaining the trunk road network in the north west of Scotland on 1 April 2013."
Both operating companies will be responsible for general maintenance activities such as salting and snow clearing, grass cutting and street lighting repairs.