Edinburgh firm John Menzies buys marketing firm for £20m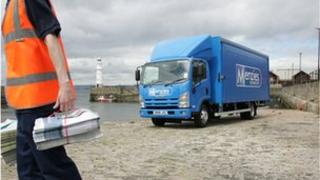 John Menzies is to expand its printed media distribution operations after buying a logistics and marketing services company in a deal worth up to £20m.
The distribution and aviation firm said it had reached agreement to acquire the entire issued share capital of Kent-based Orbital Marketing Services Group.
Orbital is 51% owned by BP Direct Mail Company and 49% by Rydlings.
John Menzies said the move would take its distribution arm into new sectors.
Under the terms of the deal, the Edinburgh-based group will pay £7.7m up front with a further £5.9m payable at the end of 2014.
Up to a further £6.3m may be paid over if "exceptionally high levels of profit performance" were to be achieved by December 2014.
Orbital comprises a portfolio of UK-based logistics and marketing services businesses serving the travel, tourism, education, charity, publishing and healthcare sectors.
Orbital, which reported an operating profit of £2.2m last year, was established in 1972 and employs more than 550 staff at nine locations across the UK.
John Menzies chairman Iain Napier commented: "This acquisition allows us to expand our printed media distribution footprint whilst also taking a large stride into adjacent growth areas.
"The team are now focused on integrating these new businesses and driving through the significant synergies that have been identified."
He added: "While the majority of the group's expansion will continue to come from our industry-leading aviation services business, this acquisition allows Menzies Distribution to grow by enlarging its printed media distribution capabilities and opening up new markets with strong growth opportunities."