Concern as Scottish hotel revenue falls sharply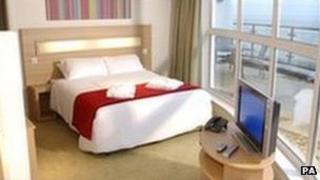 Hotel revenue fell sharply in Scotland in September, prompting fears that more tourism businesses will struggle to make it through the lean winter months.
According to a regular survey by accountants PKF, occupancy rates were slightly down on September 2011.
But the average revenue per room fell by 7.8%, compared with a drop of 0.8% in England and a 3.1% rise in Wales.
Glasgow suffered from loss of business from corporate events, conferences and concerts, with a 15% drop in revenue.
Revenue for hotels in both Edinburgh and Inverness were down more than 4% on the previous year.
A sharp drop of more than 11% in Aberdeen was explained by comparison with the bumper September in 2011, when the Offshore Europe conference and exhibition paid its biannual visit to the city.
Alastair Rae, a hospitality expert at PKF, said: "This continued decline is of concern for the Scottish hospitality sector, which has already had a difficult year.
"There will be a long-term effect produced by this continued downturn in the sector.
"The appointment of administrators to the group which operates the Malmaison and Hotel du Vin brands, as well as the well-publicised problems within the Travelodge group, is surely a further indication of how hard the current economic environment is affecting operators carrying significant debt burdens."
He added: "With the sector coming up to its quiet period, it is likely that further hotel operators may go under as the gap until the upturn in the spring may be just too long to last - even with the hope of Christmas and New Year earnings."