Arran Brewery buys former Falkirk distillery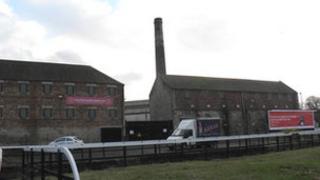 The Isle of Arran Brewery is to turn a former distillery in Falkirk into a craft brewery and visitor centre.
The company announced the plans after buying Rosebank Distillery, which was previously owned by drinks giant Diageo.
Arran Brewery said the move was the "first crystallisation" of plans for a tenfold increase in production.
The company also hopes to open a "micro-distillery" at the site in the next few years.
The Rosebank Distillery had a capacity to produce one million litres of spirit a year before production ceased in the 1990s.
Diageo sold the distillery buildings and contents 10 years ago to British Waterways, which operates in Scotland under the name of Scottish Canals.
The site will be restored and used for craft brewing, subject to planning consent.
Gerald Michaluk, managing director of Arran Brew Ltd - which trades as Isle of Arran Brewery - said the Rosebank Craft Brewery and Visitor Centre would add another attraction to the canal corridor in the Falkirk area.
Asked if he planned to bring back the distillery into service, Mr Michaluk said: "Diageo, who formerly ran the Rosebank Distillery, have written into the deeds that the site cannot be used for distilling until 2017.
"It will be our intention to open what we now call a 'micro-distillery' after that date - or before if Diageo release us from their imposed restriction."
'Right partner'
Scottish Canals said it had been searching for some time for "the right partner to help breathe new life into Rosebank".
It added: "It is both an important part of the heritage of the Forth and Clyde Canal and a handsome B-Listed local landmark occupying an important position at the entrance to Falkirk town centre."
Earlier this month Mr Michaluk announced that the Isle of Skye Brewery had agreed to merge with Isle of Arran Brewery, creating a company with an annual turnover of about £1.2m.