Lanarkshire rail firm QTS on track to expand overseas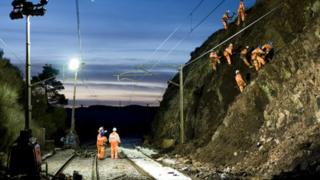 Railway contracting firm QTS Rail has said it is seeking new business in the Far East and Australia, after announcing record annual results.
The company, which is based in Drumclog in Lanarkshire, said turnover soared 75% to £24.1m for the year to 31 March.
Pre-tax profits also rose by 43% to just over £2m.
QTS offers services such as railway operations, civil engineering and drainage for the rail, transport, utilities and construction sectors.
Director and founder Alan McLeish said the company had enjoyed significant growth following restructuring within the group over the past two years.
"This growth has been fuelled by winning more framework contracts and alliances within the UK rail sector, improved supplier relationships and our increased capability to deliver more works," he explained.
Mr McLeish said that with a healthy order book in the UK, QTS was now "actively seeking" overseas opportunities in the Far East and Australia.
He added: "These results allow us to really build for the future, whether that is with overseas work, developing our workforce or investing in green energy at our HQ.
"Crucially these results allow us to reinvest profit in our road-rail vehicle research, development and production at Rench Farm which will help keep us ahead of our competition in railway operations."
QTS Rail is a wholly-owned subsidiary of the QTS Group Ltd and employs more than 80 staff.