Inverness manpower firm Orion expands in England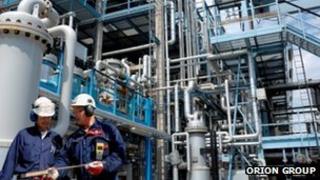 Manpower provider Orion Group has expanded its operations in the north of England by opening a new office in Teesside.
The Inverness-based firm said Teesside would "nurture business" in the oil and gas sector, while growing the firm's petrochemicals client base.
Orion has forecast a turnover of £10m for the operation in its first year.
The new office is based at Wynyard Business Park, a few miles north of Middlesbrough city centre.
The group recently reported a 25% rise in turnover last year to £308m, with profits up 62% to £9.1m.
This year the firm - whose clients include Nexen, BP, Total and Wood Group PSN - expects overall sales of £360m.
Orion Group divisional director Phil Patterson said: "The North East business has been growing year-on-year since it opened in Newcastle nine years ago.
"We have established a solid reputation with major clients based on our performance in providing to both the client and contractor a full and comprehensive cost-effective service."
Established in 1987, Orion specialises in providing contract and permanent engineering personnel to a range of sectors including oil and gas, power and utilities, renewables, aerospace, rail and construction.
It employs more than 340 staff across nine UK and 24 worldwide offices including Australia, Singapore, Canada and the United Arab Emirates.