Stirling firm Superglass continues revival plan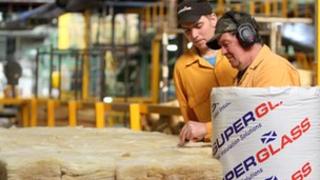 Insulation firm Superglass is introducing new technology as part of an ongoing effort to turn around its fortunes.
The Stirling-based group said it expected the "fiberising" equipment to improve product quality and further reduce its cost base.
The move is part of an investment programme called Project Phoenix.
Superglass launched a turnaround plan earlier this year after the firm got into financial difficulties.
In its preliminary results for the year to the end of August, the group said it expected "meaningful benefits" to flow from Project Phoenix from the start of the second half of the current financial year.
The investment programme is expected to lead to annual cost savings of £5m.
Its turnaround plan has been underpinned by amended bank facilities and Regional Selective Assistance (RSA) grant payments negotiated post year-end.
However, the group said the plan had been "hampered" by continuing weakness in core markets.
The company saw revenues remain stable last year at £32.4m, with sales volumes up 3% partly as a result of an expanded customer base.
Profit before tax and other adjustments was £400,000, down from £1.6m the previous year.
'Uncertainty prevailed'
In its results statement, Superglass said "uncertainty had prevailed in key markets" throughout the financial year, with construction market activity down by more than 6% in volume terms on the previous year.
It also said "great uncertainty" remained over the planned transition at the end of the year from Cert (Carbon Emission Reduction Target) to the UK government's "Green Deal" - a scheme which aims to improve the energy efficiency of homes by eliminating the need for householders to pay upfront for efficiency measures.
It added: "Recent announcements about initial support for Green Deal in the form of cash back offers are very welcome and the group continues to bring pressure on government, with all key industry members, to provide the necessary transitional arrangements to support its ambition for a substantial increase in activity through Green Deal in the long term."
Superglass chairman John Colley commented: "Superglass continues to make progress in its turnaround despite the difficult market conditions.
"With additional financial headroom and the investment programme set to deliver up to £5m per annum of cost savings, the group is well positioned to capitalise on expected long-term market growth derived from a construction industry recovery and a fully established Green Deal framework."
Earlier this year, Superglass brought in two new directors as part of its turnaround plan.
It appointed a new finance director and interim sales and marketing director after reporting a decline in sales.