Largs maritime services firm MCS invests £9m in vessels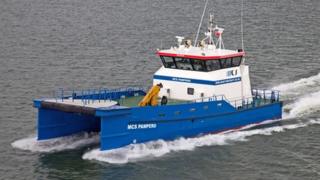 A Scottish maritime services company is to expand its operations in Europe, after buying three new vessels worth nearly £9m.
Largs-based Maritime Craft Services (MCS) will use the boats to service its offshore energy operations in Germany and Denmark, as well as at home.
The move could create 30 new jobs and generate up to £3.2m turnover per year.
The news came as MCS said it had taken delivery of a second twin axe design offshore wind farm support vessel.
The latest three boats will be delivered in March, April and June next year, bringing the company's total investment in crew transfer vessels to 22m euros (£17.7m).
'Very excited'
MCS managing director Dirk Kuijt said: "We are very excited about this new development, which should further our presence within the German offshore renewable market.
"We are now able to service the offshore renewable industry with these state-of-art crew transfer vessels which are operated by our highly experienced and certified crew."
First Minister Alex Salmond, who has just returned from a trade mission to Germany's Lower Saxony province, welcomed the development.
Mr Salmond said: "These three new vessels will take Scottish expertise and know-how into the waters off Germany and Denmark, proving once again the extent of Scotland's prominence in the global renewables industry."
He added: "This investment exemplifies how Scottish companies - with some public support, and even more hard work and talent - can achieve success in European markets."
Meanwhile, the company announced that MCS Pampero - sister vessel to MCS Sirocco which joined the fleet in June - had been handed over to Maritime Craft Services in Singapore. It will be put to work in north west Europe from mid-December.
MCS Pampero is the latest purpose-built addition to the company's 16-strong fleet.
It will work on the Global Tech 1 Wind Project in Germany and will primarily be used to transfer personnel to and from the project's base port in Wilhelmshaven to the offshore wind farm. Its large deck-carrying capacity will be used for transferring cargo.