Surveyors call for further regulation of letting agents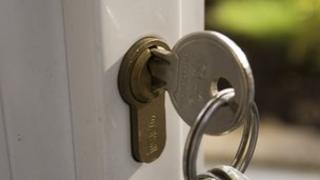 A surveyors' organisation has called for further regulation of letting agents, following recent moves to crack down on the charging of unlawful fees.
The Royal Institution of Chartered Surveyors (Rics) said current rules meant anyone could set up an agency without appropriate qualifications or understanding of housing law.
It argued many of the 500-plus letting agents in Scotland were unregulated.
The body added regulation was necessary to "provide long-term security".
Earlier this year, the Scottish government said rent laws would be clarified to ensure letting agents did not charge private tenants unlawful fees.
Ministers argued existing legislation had not been explicit enough about additional charges such as reference checks, credit checks and inventory fees.
But Rics said more regulation was needed in the private rented sector.
'Welcome action'
Rics Scotland director Sarah Speirs said: "The private rented sector is growing in Scotland as people struggle to buy property and it is imperative that we regulate the sector to provide long-term security.
"The Scottish government has taken welcome action introducing mandatory tenancy deposit schemes to protect individuals' deposits.
"However, despite the significant regulation in place for landlords, there is a gap in regulation for letting agents.
"At present lettings agents are not required to abide by a government, ombudsman or regulatory body code of practice - demonstrating a lack of legal responsibility. "
Solicitors who run letting agencies are regulated by the Law Society of Scotland and some letting agents are members of Rics or accreditation agencies such as Landlord Accreditation Scotland (LAS) or the Association of Residential Letting Agents (ARLA), which has a code of conduct for members.
Rics uses mandatory external auditing to ensure that member letting agents are following the code of conduct.