Scottish dairy sector review launched by ministers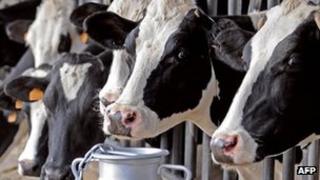 The Scottish government has launched a strategic review of the dairy sector in a bid to help it achieve sustainable economic growth.
The review will look at ways to boost efficiency and competitiveness and exploit opportunities for value added products in UK and export markets.
It will be led by James Withers, chief executive of industry body Scotland Food and Drink.
He will be backed by an advisory group, which will include dairy leaders.
The review, which will cover all parts of the supply chain, will be handed to ministers by the end of March.
Rural Affairs Secretary Richard Lochhead said: "Scotland's dairy industry has huge potential yet, despite this, the sector has faced challenging times thanks - largely - to fluctuating market returns due to volatility in world commodity prices and outmoded contractual relationships.
"That's why I brought forward a five point dairy action plan to address the various issues facing our dairy industry and this strategic review, which will be chaired by James Withers, is a key part of this plan."
'Market potential'
He added: "I'm particularly interested in exploring ways in which we can add value to our dairy products and exploit the market potential offered by the Scottish premium, allowing us to drive up export volumes as well as domestic sales."
Mr Withers said there had been "a decade of frustration" in the Scottish dairy industry, during which time milk production had fallen and half of dairy farmers had left the sector.
He added: "It is time for change. We have the ingredients for success with one of the most efficient milk fields in Europe, the highest standards of production and processing, rising demand for milk and dairy products and a growing national reputation for premium produce.
"What we need now is a clearer focus and a collective desire to consider real change. That means developing a long-term growth plan for the sector and challenging existing ways of doing business."
He added: "We need to think about what we could and should produce in this country, what markets we should target - here and overseas - and how we better structure ourselves."