Exports soar for Alness plastics firm Porex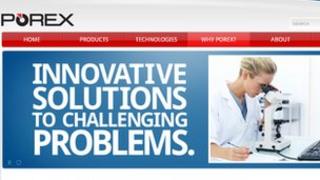 An Easter Ross-based firm which specialises in making porous plastics has reported a big increase in exports.
Porex Technologies Ltd saw sales rise by 40% last year, with exports accounting for 95% of turnover.
Porex, which is based in Alness, makes porous plastic parts which are used in products such as smoke detectors and electric toothbrushes.
They are also used in medical and bioscience devices, such as dialysis systems and DNA research equipment.
Porex, which recorded turnover of more than £3.2m last year, has forecast further growth in 2013.
The company, which bought its manufacturing facility at Alness Point Business Park last year, has been entering new markets with the help of a £77,000 grant from Highlands and Islands Enterprise.
Porex were also given a Regional Selective Assistance (RSA) grant of £175,000 for capital projects.
The company is a wholly-owned subsidiary of Porex Corporation, which has its headquarters in Georgia, USA.
Porex has been based in Alness since 1994 and now employs 21 people at its facility.
Managing Director Andrew Maclennan said: "The financial support from HIE and SDI has supported us with our growth plans and has enabled us to expand our international sales by adding key development resources to the local business.
"There are huge opportunities with companies and markets outwith the UK and our products continue to gain recognition in these areas.
"As the business continues to grow at a very fast rate, we will be expanding our needs in all areas which will ultimately lead to new job opportunities and new capital equipment spend."