Dunfermline firm Optos plans further expansion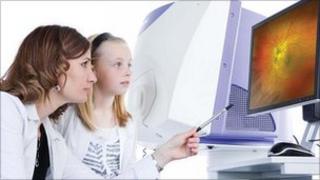 Retinal imaging firm Optos is planning to expand its product range and international reach after reporting a surge in revenues.
The Fife-based company said overall revenues climbed 37% to $196.4m (£123m) for the year to the end of September.
Sales in North American grew by 26%, while international sales rose by 85%.
Pre-tax profits increased by 16% to $26.3m, boosted by sales of its newly developed ultra-wide field retinal scanner Daytona.
Chief executive Roy Davis said: "Optos has delivered a very strong revenue performance, enabling the company to invest for future growth.
"The last financial year saw the beginning of a new significant chapter in the evolution of Optos with the market launch of Daytona. We have been delighted with the response to its introduction.
"We believe Daytona will be a pivotal platform for the expansion of our product offerings and international reach, aided by the growing body of clinical evidence that confirms the critical importance of the periphery in retinal diagnostics."
Mr Davis said the firm's priorities for the current financial year included growing its Daytona customer base.
He added that Optos expected to deliver revenue growth "in high single digits" as Daytona reached volume production.
Dunfermline-based Optos sells eye-testing machines that can detect high blood pressure and some cancers.
Last month the company took on a three-year bank loan of $30m to finance the acquisition of a division of US-based Opko Health.
Optos paid an initial cash consideration of $17.5m (£11.1m) for Opko's instrumentation division.