Shares slump at mining firm ATH Resources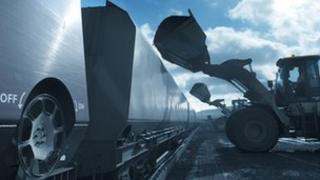 Troubled mining firm, ATH Resources, has seen its share price slump to almost nothing as a lender calls for major restructuring.
The company, which operates five mines in Scotland, was put up for sale last month.
ATH said its lenders had sold off some of its banking facilities to the Becap Fund.
As part of the deal, the group said a comprehensive review and restructuring of the business would be required.
In a statement it added: "It is unlikely that existing shareholder value will be maintained. Following completion of the review the new lender may be prepared to inject new capital into a restructured business."
Shares fell by nearly 40% in early trading, to nearly zero.
The Becap Fund is part of the investment company, Better Capital.
The group said it focuses on providing investment capital for "the acquisition and operational turnaround of underperforming businesses" typically investing in businesses with turnover of up to £500m and requiring investment of up to £50m.
ATH employs about 300 people at mines in Fife, Ayrshire and Dumfries and Galloway and at its head office in Doncaster.
In June ATH announced it might delay expansion plans after international coal prices slumped.
The company said on 5 October it had reduced its liabilities from £23.5m to £18m, although the company added it would need to increase that level to meet its operational requirements from December onwards.