Aberdeen's Stewart Milne Group reports rise in profits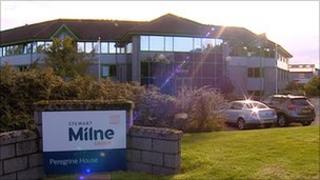 Aberdeen-based housebuilder Stewart Milne Group has reported a rise in profits, despite incurring significant restructuring costs.
Records at Companies House showed the firm made a pre-tax profit of £486,000 in the 12 months to the end of June - up from £406,000 in the previous year.
In April, Stewart Milne sold off its commercial construction division to UK property firm Kier.
The division's losses, along with exceptional costs, amounted to £8.2m.
The group also incurred "substantial costs" in restructuring its timber systems business to increase operational efficiency.
The company said group operating profit increased by 25% to £12.1m, in part as a result of increased activity in its homes division and an improved timber systems performance, which more than offset losses in its former construction business.
In a statement, chairman Stewart Milne said: "The year to June 2012 experienced market conditions similar to 2011 with housebuilding activity remaining subdued due to a lack of availability of mortgage finance and confidence levels being low, and both the construction and timer frame markets being extremely competitive."
He added: "We believe that the challenging market conditions will continue in the coming year and we continue to focus on the fundamentals of the business to ensure we operate effectively."