Kilt firm Kinloch Anderson opens store in New York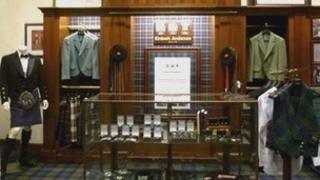 A Scottish kilt-maker has set up shop at the flagship store of one of America's oldest men's clothing chains.
Kinloch Anderson said it had launched a Highland dress store at Brooks Brothers in Madison Avenue, New York.
The Edinburgh-based Royal Warrant kilt-maker is to maintain its presence at the store following a successful trial period.
It is now considering rolling out the concept to other major Brooks stores.
Chief executive John Kinloch Anderson said: "Brooks Brothers had some suppliers in Scotland for various products.
"They came to Scotland to look at the potential here and we were introduced to them.
"They told us that they thought the concept could work at their store in New York so we started a trial period at the end of October.
"There was a positive reaction so we have decided to keep it going."
'Very exciting'
He added: "It is very exciting. We see a lot of synergies between the two companies from the history and heritage point of view as well as the ethos - we pride ourselves on traditional, personal service."
Kinloch Anderson, which was founded in 1868, was among several Scottish textile firms which helped to create a signature tartan for Brooks Brothers under an initiative supported by Scottish Enterprise and Scottish Development International.
Brooks Brothers senior vice president Joe Dixon said: "Brooks Brothers is proud to celebrate our heritage with Scotland.
"It is testament to the creativity, quality and technical skills of Scotland that we continue to buy year on year.
"Our customers are extremely discerning and demand that we seek out the finest knitwear and fabrics for them. Scotland has continually delivered on this promise."
Brooks Brothers has an even longer history than Kinloch Anderson, having opened its doors in 1818.
'Vibrant sector'
Head of textiles at Scottish Enterprise, Cathy Black, added: "We are very proud of our vibrant and diverse textiles sector in Scotland and, together with our international team at Scottish Development International, we support companies to access opportunities in key markets such as the USA.
"Exporting plays a key role in the industry and it's partnerships such as that with Brooks Brothers which will help us achieve our growth in this area."
Scottish Enterprise has estimated that woven fabrics - including tartan, knitwear, leather and accessories - account for about 50% of the £950m that textiles contribute to the Scottish economy each year.