Uddingston firm Tunnock's sees big rise in turnover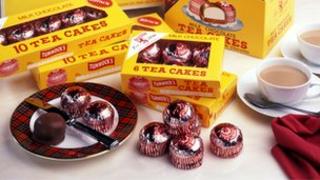 Scottish confectioner Tunnock's has reported a big increase in turnover, boosted by rising exports and sales to new customers.
The Uddingston-based makers of tea cakes and caramel wafers said turnover for the year to the end of February climbed 16% to more than £37.8m.
Records at Companies House also showed pre-tax profits rose by £420,000 to more than £3.8m.
Exports soared from £4.65m in 2011 to just over £7m.
Tunnock's also continued to invest in new plant, spending £1.76m during the year.
The company said the investment was "essential" to maintaining its position in the market.
Its annual report added: "The past year saw the extension of caramel wafers through the introduction of mini tubs of caramel wafers. We continue to review the possibility of extending other products without our range."
The company was founded by Thomas Tunnock in 1890, and is currently led by his grandson Boyd Tunnock.
Mr Tunnock is thought to be the company's highest paid director, who received - excluding pension contributions - a salary of just under £130,000, slightly less than the amount received the previous year.
Tunnock's biscuit products were first exported from Uddingston to Newfoundland, Canada, back in 1957.
It now ships to markets around the world, including the Caribbean, Kuwait, Canada and Japan.