Aberdeen shipping firm Craig Group sees profits up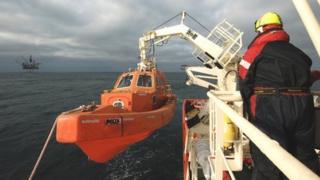 Shipping and energy services firm Craig Group has seen turnover and profits climb as it continues to modernise its fleet of vessels.
The Aberdeen-based business said turnover rose by £11.4m to £123.3m in the year to April, while operating profits were up £1.7m to £14.8m.
Craig Group said there was a strong performance across all divisions.
The company, whose activities include offshore support, oilfield supplies and leisure, employs about 1,000 staff.
Last year it invested £28.4m, mainly in modernising its fleet.
Since 2003 Craig Group has spent £215m on its modernisation programme, resulting in the addition of 20 new vessels.
The fleet is a mix of offshore support, platform supply, tanker assist, survey and emergency response and rescue vessels.
It is operated by Craig Group's North Star Shipping division, which saw its turnover increase by 9.7% to £80.3m.
Four new vessels were completed in 2012, creating 100 jobs in the marine industry.
Turnover at Craig International Supplies (CIS), the group's oilfield procurement division, also rose by 10.3% to £37.6m.
'Healthy results'
Managing director Douglas Craig said: "We are pleased to report healthy results across all three divisions for 2011/2012.
"The UK oil and gas sector continues to flourish in what is still very much a fragile economic period and as a result we have been able to invest in vessels, people, premises and services."
Mr Craig added: "We are particularly excited by the potential of CIS' global strategy, which will see the procurement division moving into new markets including West Africa, Central Europe and Australia over the next year."
The Craig Group's divisions operate in Europe, Africa and the US.
Its leisure arm operates the Kings Links Golf Centre in Aberdeen.