Whisky firm Edrington reports sharp prise in profits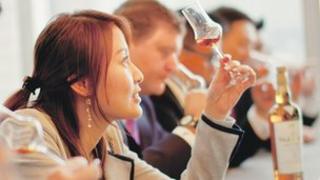 The makers of Famous Grouse have reported a sharp rise in turnover and profits.
Edrington Group said turnover for the first six months of the year rose by 6% to almost £296m, driven by strong growth in the US, Asia and emerging markets.
Pre-tax profit climbed 21% to £84.3m, boosted by underlying brand growth.
Edrington's other brands include The Macallan, Brugal, Cutty Sark and Highland Park.
In its interim results, the spirits firm reported strong performances by premium single malt brands in the US and blended brands in Asia, driven by improvements in its distribution network.
Cutty Sark sales grew in the US for the first time in 25 years, following a change of distributor and increased investment.
Chief executive Ian Curle said: "This has been another period of strong growth in our business and reflects a fantastic performance by our employees - both in Scotland and across the world.
"Demand for our single malt brands, led by The Macallan, remains very strong - particularly in the US.
"Growth in our other brands has been driven through effective marketing, brand innovation and a dynamic approach to new and developing markets."
Edrington's shareholders are its employees and the Robertson Trust - a charitable trust that supports causes in Scotland.