Sales decline at Johnston Press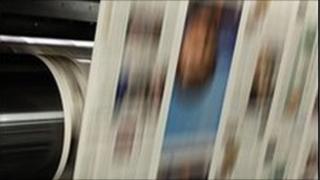 Media group Johnston Press has reported an 11.4% decline in like-for-like sales.
However the Edinburgh-based group said it was seeing "some positive signs of a slowing in the rate of revenue decline in November".
The company whose titles include The Scotsman and the Yorkshire Post said it had successfully relaunched 54 titles.
Cost savings for the full year are predicted to come in at £30m - £5m more than originally expected.
Releasing results for the period between May and October this year, the group said like-for-like print and digital advertising revenues were down 14.0%.
Earlier this year, Johnston, which publishes nearly 300 local papers, announced a revamp of many titles and plans to improve its online service, while moving many daily titles to weeklies.
The company said the second phase of its re-launch programme had been implemented and "while it is early days, we are seeing a positive impact on these titles with circulation revenues of the 31 paid-for titles re-launched in the second half up 19.5% on the week immediately prior to re-launch and 13.8% up year on year".
The company's digital revenues grew by 2.9% in the latest period.
Johnston Press' CEO Ashley Highfield said: "While market conditions have been even tougher than expected, we have made good progress in restructuring our operations, reducing the cost base, maintaining focus on debt reduction and continuing to invest in growth areas."