Rise in homes on Scottish market not matched by buyers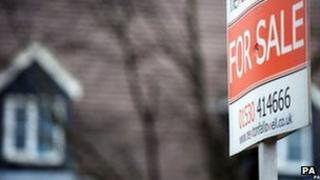 The number of homes coming on to the market in Scotland has risen but has not been matched by the number of buyers, according to new figures.
The latest survey by the Royal Institute of Chartered Surveyors (RICS), covering October, found prices on the way down.
While 3% of surveyors said they had seen prices rising slightly, 36% said they were falling last month.
Surveyors said overall activity in the housing market remained "very low".
However, they were hopeful the picture would improve over the next three months.
Last month, 44% more surveyors reported rises rather than falls in the number of vendors placing their properties on the market.
Despite this, 8% more surveyors recorded falls rather than rises in inquiries from new buyers and the number of transactions which went through remained relatively stable.
The fall in interest from potential buyers was not seen in England.
RICS Scotland director Sarah Speirs said: "Overall activity is still very low in most parts of the country.
"Government initiatives are all well and good but they need time to bed in and take effect, and access to affordable mortgage finance is still very difficult for many first-time buyers."
Ian Morton, from Bradburne & Co in St Andrews, was among those who contributed to the latest RICS survey.
He said: "There has been a flurry of properties put on the market for sale recently. However, most sellers are now preparing to put their home on the market next spring hoping values will be increasing."
David Corrie, from CKD Galbraith, in Castle Douglas, said: "Buyer inquiries and sales have slowed right down. Instructions remain steady. Prices are still sliding."