Bus firm Stagecoach snaps up service from FirstGroup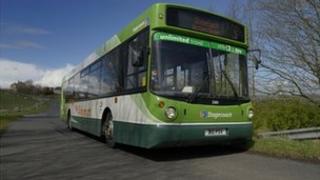 Transport firm Stagecoach has agreed to buy another service from its Scottish rival FirstGroup for £4.5m.
The operations which Perth-based Stagecoach will acquire include 110 buses operating services out of Chester, Wrexham and Birkenhead, and employing about 290 people.
The services will become part of Stagecoach Merseyside and South Lancashire.
The group said the deal would allow it to expand in north-west England.
It already operates more than 300 buses in the area and employs more than 900 staff.
Stagecoach will make the acquisition through its subsidiary, Glenvale Transport.
Les Warneford, managing director of Stagecoach UK Bus, said: "We believe there is significant scope to develop these businesses and improve their financial performance by investing in the quality of the bus fleet, as well as offering customers our good value fares and attractive network tickets."
Aberdeen's FirstGroup said the disposal of its assets in the north-west was part of its strategy "to reposition its UK Bus division to focus on those areas that offer the greatest potential for growth".
Late last month it sold its Wigan operations to Stagecoach.
Giles Fearnley, First UK Bus managing director, said: "Birkenhead and Chester are businesses where we have previously seen lower than average margins and they are not core to our operations.
"They fit better with Stagecoach's existing portfolio in the area and also allow us to realise efficiencies in support costs."