'Virtually zero growth' in the private sector economy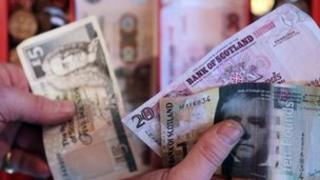 There has been virtually no growth in the private sector economy amid manufacturing job losses, according to a report by the Bank of Scotland.
Reduced demand for Scottish exports in Europe has also contributed to the lack of movement, the study said.
It also found the rising price of energy, fuel and food in October has driven up costs for businesses.
Manufacturing remained the hardest hit by the economic stagnation, although there were signs decline is slowing.
Scotland's overall manufacturing output in October fell for the fourth month in a row, the longest continuous period of decline since the 2008-09 recession.
Manufacturing firms recorded both redundancies and the non-replacement of voluntary leavers over the month, although the overall rate of job losses was said to be "marginal".
The report showed overall employment levels have not varied significantly and demand is stagnant.
Slow pace
There was limited growth in activity in October, which has been attributed to progress with outstanding business rather than gaining new work.
The service sector continued to expand at "a relatively subdued pace" with a marginal increase in recruitment.
Although the deterioration in the Scottish economy over the summer has been stemmed, the Bank's monthly Purchasing Managers Index (PMI) report said this amounted to very little change in the Scottish economy.
Donald MacRae, chief economist at Bank of Scotland, said: "October's PMI showed a welcome return to weak growth in the private sector of the Scottish economy, driven by a rise in services activity.
"Manufacturing output fell in the month but at a much slower pace than in September indicating a recovery from the dip in output felt from July to September.
"The deterioration in the Scottish economy identified in the summer months has been arrested but there are few signs yet of a sustained recovery."
Financial services sector activity expanded but there was a decline in travel, tourism and leisure for the third month.