M Squared tops Scottish tech firm growth list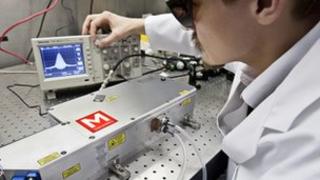 A laser manufacturer has been named as Scotland's fastest-growing technology business in a UK-wide survey.
Glasgow-based M Squared Lasers was ranked eighth by accountants Deloitte in a list of the UK's 50 fastest-growing technology firms.
It recorded a growth rate of more than 1,600% over the past five years.
A record five Scottish businesses were represented in this year's Deloitte Fast 50, compared with only two in 2010.
The fastest-growing UK technology business was Berkshire-based electronics firm ZBD, which saw a growth rate of nearly 18,000%.
Established in 2006, M Squared Lasers develops and manufactures lasers and photonic instruments for a range of sectors, from explosives detection to biomedicines.
About 50% of its sales are in North America, where it opened a subsidiary in Silicon Valley in 2011.
Asia accounts for a further 30% of sales.
'Key component'
Chief executive Graeme Malcolm said product development was a "key component" of the company's success.
"In the last 12 months we have redeveloped our Firefly laser, originally designed for the defence industry, to provide a remote leak detection system with unparalleled accuracy to the oil and gas sector," he said.
"International exports are also important in helping the company grow, with around 80% of our customers based in North America and Asia."
Deloitte director Paul Copland said: "M Squared Lasers has invested in overseas markets and placed great focus on research and development to drive the business forward and ensure continued success.
"The company's unparalleled growth in Scotland, during what have been challenging market conditions for all businesses, highlights the importance of finding a marketable product or service to beat the recession."
Other Scottish firms which made this year's Deloitte Fast 50 included biotechnology firm Touch Emas (15th), travel search site Skyscanner (25th), telecoms business Pinnacle Technology (30th) and electronics firm Reactec (41st).