Bowleven stock soars on alliance with Petrofac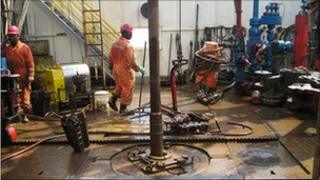 The oil firms Bowleven and Petrofac have announced a strategic alliance to help "unlock the potential" of operations in Cameroon.
Edinburgh-based Bowleven said earlier this year it was planning to concentrate on its West African exploration sites.
This tie-up will see oil services giant Petrofac invest up to $500m to develop the Etinde assets.
Shares in Bowleven shot up by 21% in early trading before falling back.
Bowleven said in return for its investment Petrofac would be remunerated through a share of its product revenue.
Kevin Hart, chief executive of Bowleven, said: "We are delighted with the considerable progress made on our path to development in Cameroon and in so doing, pursuing our stated objective of converting resources to reserves. "
He added: "The proposed strategic alliance with Petrofac announced today will give us access to capital alongside extensive development expertise to assist project delivery, mitigate execution risk and help deliver first production from Etinde."
The latest financial results from Bowleven showed the company made an operating loss of $13m (£8m) compared with $76m (£47m).