Contractor fined over Thomas Sturrock roof fall death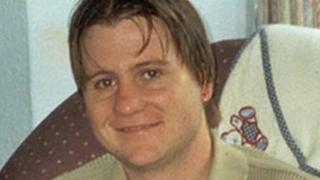 A self-employed contractor has been fined £20,000 after one of his employees fell to his death through a fragile warehouse roof in Fife.
Boyd Lamont, from Buckhaven in Fife, pleaded guilty at Dunfermline Sheriff Court to breaching health and safety rules.
Thomas Sturrock, 32, died after falling through the roof of a Tullis Russell Papermaker warehouse in Markinch.
The incident took place in September 2008.
Tullis Russell has previously been fined £260,000 over Mr Sturrock's death.
In February last year the company pleaded guilty on indictment to breaching the Health and Safety At Work Act by failing to provide a safe system of working that left employees placed in danger of serious injury and death between 3 September and 29 September 2008.
Safe system
Dunfermline Sheriff Court heard that Mr Sturrock, and a number of other men employed by Lamont, were working at height to clean the fragile roof of the warehouse.
Mr Sturrock was walking on the roof when he fell about 14.5m (47ft) to the concrete floor below. He died of his injuries at the scene.
Following a lengthy trial, Lamont pleaded guilty to failing to ensure the health and safety of his employees.
He also pleaded guilty to failing to provide his employees with equipment, information, instruction, training and supervision or a safe system of work for employees carrying out such work at height.
He also failed to make "a suitable and sufficient assessment" of the risks to the health and safety of his employees arising from this work.