Scotgold secures £1.2m loan for Cononish gold mine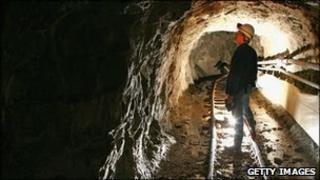 Scotgold Resources has secured a pre-development loan worth nearly £1.2m as it continues a drilling programme at its gold mine in Loch Lomond National Park.
The company said it had concluded the funding agreement with RMB Australia Holdings.
It will allow RMB to acquire Scotgold shares at a cost equal to the value of the loan, if all options are exercised.
Scotgold hopes to start extracting gold from Cononish near Tyndrum in 2014.
In addition to the loan agreement, RMB will be asked to arrange a facility to part-fund the development of the Cononish gold project.
Last month, the mining company said it was "very encouraged" by the results of drilling in the western section of the mine.
A total of 14 holes were drilled in order to form the basis of a mining plan which will help determine the "optimum" amount of borrowing for the project.
Drilling has also started in the eastern section of the mine, with a further five holes planned.
The final results will be included in a report by mining consultants Snowden. Scotgold expects the report to be completed early next year, enabling mining to begin in the second quarter of 2013.
The first gold production is expected in early 2014.
Meanwhile, the company said it continued to "actively pursue exploration activities" in areas where it has options.
Fieldwork, including stream sediment sampling, is taking place in the Inverliever, Cononish/Glen Orchy and Glen Lyon areas.
Initial field visits were also conducted to the Knapdale and Ochil option areas.