Stagecoach buys FirstGroup's Wigan bus arm for £12m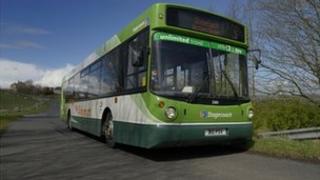 Transport group Stagecoach is to expand its presence in the Greater Manchester area after buying a Wigan bus operation from rivals FirstGroup for £12m.
Stagecoach subsidiary Greater Manchester Buses East bought the business and its assets from First Manchester.
The Wigan operation runs commercial bus services and school contracts and employs about 300 people.
The deal includes a depot in Wigan and about 120 vehicles.
Perth-based Stagecoach already runs about 630 buses and employs 1,850 staff in the Greater Manchester area.
The Wigan operation will become part of Stagecoach Manchester, which carries nearly 100 million passengers a year.
Stagecoach expects the acquisition to be completed in early December.
Stagecoach UK Bus managing director Les Warneford said: "We have a strong track-record of attracting more people to bus travel and these new operations will expand our successful high-quality operations in other parts of Greater Manchester.
"We will continue to focus on providing customers with the best value fares of any major bus operator in the UK, investing in our networks and delivering punctual and reliable services."
'Clear focus'
FirstGroup said the sale was part of the company's strategy to reposition its UK Bus division to focus on those areas that offered the greatest potential for growth.
Chief executive Tim O'Toole said: "The sale of our Wigan bus business marks continued progress in our programme of selected asset and business disposals as we review the scope and scale of our UK Bus portfolio and reposition it for the longer term.
"With a clear focus we are working through a detailed plan to recover performance in our UK Bus division and equip the business to achieve sustainable growth and improved returns."