AG Barr and Britvic merger talks at 'advanced stage'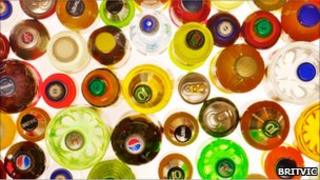 Soft drink rivals AG Barr and Britvic have been given another month to seal a possible £1.4bn merger after announcing "substantial progress" in talks.
The takeover panel had given the companies until 31 October to announce their intentions over a possible bid.
But it has extended the deadline until 28 November after the firms said talks were now at "an advanced stage".
Irn Bru maker AG Barr and Tango producer Britvic opened discussions about a merger last month.
AG Barr, which also makes Tizer and Rubicon, approached its Hertfordshire-based rival Britvic about a potential tie-up on 5 September.
The firms were originally due to announce their bid intentions by the beginning of October but were granted an extension by the panel to 31 October after stating that talks were ongoing.
The deal, if it goes ahead, could create one of Europe's leading soft drinks companies.
Last month AG Barr reported a profits fall despite strong sales growth in the six months to the end of July.
The Cumbernauld-based company said pre-tax profit fell by £1.3m to £14.9m, while sales rose by 4.9% to £130m.
It described competition in the soft drinks market as "intense", thanks in part to major events such as the 2012 Olympic Games.
Britvic, which produces brands including Robinsons and J2O, announced earlier this month that a recall of its Fruit Shoot drink over faulty caps cost it about 2% of annual revenues.
It also said trading was hit over the summer by poor weather.
However, the firm said it was confident about meeting full-year targets.