'Tentative recovery' in Scottish retail sales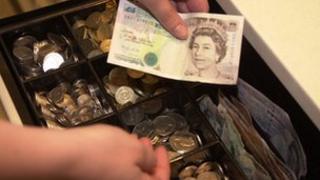 The value of retail sales in Scotland grew by 1% between July and September and by more than 2% over the year, according to official figures.
The Retail Sales Index showed the volume of sales also grew by 0.9% in the quarter and by 1.1% over the year.
Finance Secretary John Swinney said the the figures pointed to "a tentative recovery in consumer confidence".
Retail accounts for about 5% of Scotland's economy and 10% of its employment.
Mr Swinney added: "The Scottish government is doing all we can to improve confidence further.
"Our council tax freeze has resulted in average savings of £479 for households across the country since 2008 and our policy of no compulsory redundancies has given confidence to the thousands of people who work in the public sector."
Earlier this month figures from the Scottish Retail Consortium also highlighted a rise in spending although it said after accounting for inflation, sales were flat.
Commenting on the latest retail data, CBI Scotland assistant director David Lonsdale said: "These encouraging figures mirror the findings of the CBI's own retail surveys, with solid growth being reported across a number of retail sub-sectors and with rising sales volumes expected to continue over the next few months.
"Government can assist by keeping a firm lid on those costs under its control which impact on retailers, particularly business rates and regulation."