Standard Life reports sales fall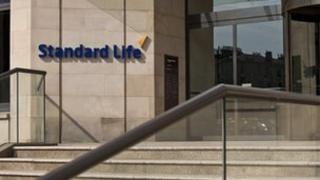 Pensions, savings and investment firm Standard Life has reported a 7% drop in sales on the back of a weaker corporate pensions business.
The Edinburgh-based company had new business sales of more than £14bn in the nine months to 30 September compared with £15.5bn a year earlier.
The decline was due partly to a 32% drop in corporate pension sales.
Standard Life said that was partly due to companies putting off changes to their pension plans.
The Scottish group said employers were "delaying decision-making ahead of the phased introduction of auto enrolment" but added it was "well positioned to benefit from pension reform".
The insurer said the introduction of auto enrolment was leading many companies "to review their overall pension provision, giving rise to high levels of enquiries and a growing pipeline from employers in our target market".
Standard Life said it was also ready for another change in regulations which come in to force next year and which ban commission payments to financial advisers who sell life insurance and savings products.
Meanwhile, assets under administration grew from £204bn in June 2012 to £212bn in September.
Commenting on the latest financial statement, chief executive David Nish said: "Standard Life has performed well in the first nine months of the year, continuing to grow our assets despite the uncertain economic environment."