Clydesdale Bank reports £183m losses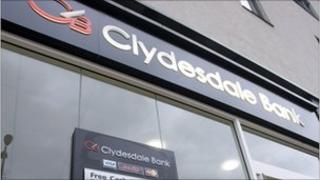 Clydesdale Bank has reported a pre-tax loss of £183m for the year to September.
The Glasgow-based lender, which includes Yorkshire Bank, says bad debt rose by almost 90% - to reach £631m.
The problem with bad debt has been attributed to falling commercial property values.
The Clydesdale is currently being re-structured by its owner, National Australia Bank.
It plans to lose a total of 1,400 jobs by 2015.
The bank made an underlying profit, when bad debts are excluded, but that was down 16% to £448m.
Along with Yorkshire Bank, Glasgow-based Clydesdale cut costs, with 468 jobs shed during the year to September.
However the 4% cut in costs did not fall as fast as income, with interest income down 11%.
Mortgage business grew by nearly 10% in the year to September but business lending balances were down, as they were across the banking market.
'Difficult environment'
David Thorburn, the chief executive of Clydesdale Bank, suggested the results showed progress in the task of restructuring and simplifying the bank to enable it to focus on traditional strengths.
He said: "The past year's performance demonstrates the need for the difficult steps we are taking.
He accepted the bank faces "a very difficult economic environment" and "prolonged economic uncertainty".
National Australia Bank decided to simplify its ailing UK subsidiary by taking over its commercial real estate assets, valued at £5.6bn.
That transfer took place in early October, after the end of the reporting year.
Viewed from the Melbourne headquarters, the UK bad and doubtful debts were seen as the main reason for a fall in earnings, added to the cost of compensation for mis-sold financial products at the Clydesdale and Yorkshire.
Group chief executive Cameron Clyne said the results reflected the strength of the core Australian and New Zealand businesses, and of the wider Australian economy compared with other advanced countries.
Excluding UK banking, NAB earnings were up 9%.