Morphsuit Hallowe'en sales 'double in a year'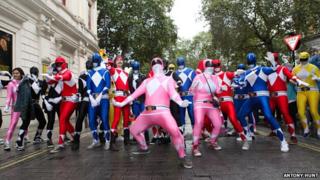 Makers of the Morphsuit, the all-over, figure-hugging party gear, say Hallowe'en sales are nearly double last year's level.
The Edinburgh-based company looks to the autumn celebration of all things ghostly and scary for much of its sales.
Sales of the Lycra suits have risen to 185,000 for the year so far, 57% up.
That does not include those shipped to Party City, the large US retail chain, which does not release its sales data.
Hallowe'en sales are up to nearly double the 2011 level, according to Gregor Lawson, one of the three young men who started selling Morphsuits three years ago, and then gave up their jobs in marketing and banking.
However, late online sales and trade deliveries are being affected by the closure of the company's Philadelphia warehouse enforced by the region's storm conditions this week. Lost sales could run to tens of thousands of pounds, it is claimed.
The company has increased its range of Hallowe'en designs from 20 to 30, but the party season means sales across the wider range.
"What we see with Hallowe'en in the US and UK is that a lot of people use it as an opportunity to dress up and look silly, rather than an opportunity only to look scary," said Mr Lawson.
One new departure for the company is to license well-known designs rather than their own. That has started with Power Rangers since the beginning of October, and there are talks under way to expand into characters owned by Disney Marvel.
Earlier this year, it also started selling a children's version of the Morphsuit, firstly in the UK, with plans to push it in Australia, Germany and the US.
Whereas much of the marketing of the Morphsuit has been through its Facebook community, children are being reached through advertising on the Cartoon Network TV channel.