Talisman reports drop in North Sea production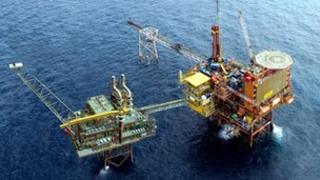 Oil company Talisman has reported an 8% drop in its North Sea production.
The fall was partly due to the evacuation of a platform in Norwegian waters which is at risk of collapse unless its legs are repaired.
The Canadian exploration and production company said the results from UK and Norwegian waters contributed to a $731m (£456m) loss in the third quarter.
It said its capital plan for next year was smaller and more focused than in recent years.
It also expects to complete a $1.5bn (£933m) sale of 49% of its UK offshore assets to Chinese oil firm Sinopec.
Talisman said it intended to close the deal by the end of this year, with the new joint venture investing more in UK waters, helping to extend field life and to delay decommissioning.
Under Hal Kvisle, who started as chief executive in September, Talisman is taking a more conservative financial approach and will focus on three core areas - the Americas, South East Asia and the North Sea.
Undeveloped fields
During the first nine months of this year, its production in the UK North Sea fell from 74 million barrels to 56 million barrels.
It is to invest $750m (£467m) in two undeveloped fields - Cayley and Shaw - following a tax break announcement from the UK Treasury. Regulatory approval for that was granted last week.
The big uncertainty in Talisman's third quarter results comes from the Yme platform in the Norwegian North Sea, which was evacuated in July for safety reasons.
With fears that the platform could collapse, the company said recently it intended to repair the damaged platform legs by the end of this year.
But due to the continuing uncertainty, it has had to set aside a pre-tax figure of $497m (£309m).
Last week Talisman said a £1.6bn plan to extend the life of North Sea oil fields had been approved by the UK government.
Its MonArb Area Redevelopment (Mar) project is expected to lead to the production of a further 100 million barrels of oil.
It involves the existing Montrose, Arbroath, Brechin, Arkwright, Carnoustie and Wood fields.