Perth firm Stagecoach in greener fuel move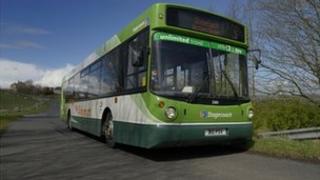 Stagecoach has introduced greener fuel on more than 900 vehicles in its Scottish bus fleet as part of a drive to cut its CO2 emissions.
A new mix of fuel will be used by 530 buses and coaches across its East Scotland business and almost 400 vehicles at Stagecoach West Scotland.
The new fuel blend uses a mix of 30% biofuel and 70% standard diesel.
The Perth-based transport group said buses in both areas previously used a mix of 5% biofuel and 95% diesel.
The new fuel is expected to cut CO2 emissions from the vehicles by up to 22%.
The B30 fuel blend was introduced in partnership with Motherwell-based Argent Energy, which manufactures biofuel from waste products.
Argent Energy and Stagecoach have worked together on a number of projects, including the launch of bio-buses in Kilmarnock in 2007 - a fleet of nine buses which operate using 100% biofuel.
Carbon footprint
Stagecoach regional director for Scotland Sam Greer said: "We are constantly striving to make our business more sustainable and we believe the introduction of this greener biofuel will make a real difference to our carbon footprint as a company.
"Public transport can play a key role in reducing climate change and new technology, such as the use of biofuel and improved environmental monitoring systems, is crucial if we are to get people to switch from the car on to our greener smarter bus services."
Stagecoach is currently in the third year of a five-year plan to reduce its own carbon footprint as a business.
The group said it had reduced carbon emissions relative to the turnover of its UK businesses by 5.6% in the two years to 30 April 2011 as a result of a package of measures designed to make the group more sustainable.