Fertility group ARP in Glasgow centre merger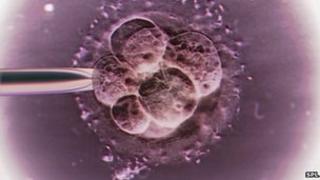 A specialist fertility group has bought a majority stake in the Glasgow Centre for Reproductive Medicine (GCRM).
Academic Research Partnership (ARP) said the multi-million pound deal created the UK's largest single provider of both NHS and private IVF services.
This is ARP's third merger in the UK, following partnerships with the Oxford Fertility Unit and IVF Hammersmith.
GCRM operates from a base in Glasgow, with a satellite clinic in Edinburgh.
The centre was established in 2006 and employs a total of 45 staff across both locations.
The company said three of the four GCRM shareholders had retained a significant stake in the business and were committed to growing and developing the company further.
'Logical step'
GCRM managing director Paul Mitchell said: "GCRM has gone from strength to strength over the past six years and in terms of business development, this was the next logical step.
"This will provide the platform we need to ensure GCRM continues to provide the very best care for its patients."
Scottish law firm Harper Macleod and accountants PKF advised on the deal.
PKF corporate finance director Craig Martin commented: "This deal will secure the next step in the continued growth of GCRM, as part of the largest fertility group in the UK.
"The team will be able to offer continued improvements in the quality of patient care and clinical success which will enhance and develop the business over the next few years."
The private market for fertility treatments has increased rapidly over the last five years.
The UK fertility market is estimated to be worth £550m annually, with more than 50,000 IVF cycles performed annually - 75% of those within the private sector.
GCRM said it expected to see further expansion of the sector in the coming years.