Pernod Ricard reports slowing Asia whisky sales growth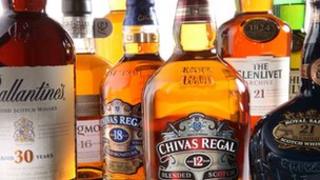 French drinks firm Pernod Ricard has reported a "difficult" first quarter for Scotch whisky sales as growth slowed in parts of Asia.
The company said whiskies experienced a slowdown in South Korea, Thailand and China, where sales alone fell by 1%.
It also blamed difficulties in the Spanish market and a hike in excise duty in France for easing demand.
Pernod Ricard's overall sales totalled 2.2bn euros between July and September, 11% up on the same period last year.
In an analysis of its performance in China, the company said "very dynamic" growth was largely driven by Martell cognac.
It added: "Given a more difficult economic backdrop, the first quarter proved challenging for Scotch whiskies, the decline of which was in line with the market."
Pernod also said South Korea and Thailand remained "structurally challenging markets" for whisky.
In other parts of the world there was overall sustained growth, with Russia seeing strong sales driven by several brands including Chivas, Ballantine's and Jameson.
In the Americas, solid growth was driven by premium brands including The Glenlivet and Jameson.
Pernod Ricard chief executive Pierre Pringuet said: "In a less favourable macro-economic environment we realised a good overall performance in the first quarter."