Eddie Stobart reports fall in revenue and profit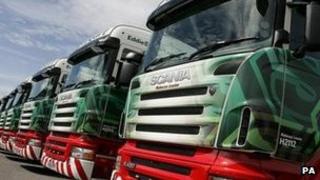 Haulage firm Eddie Stobart has said it remains confident about its prospects despite reporting a fall in revenue and profit.
The company said revenue for the first half of the year fell back slightly to £278.5m, while underlying pre-tax profit dropped from £16.4m to £13.2m.
However, its transport and distribution division saw margins improve by 10%, despite revenue falling by 5.6%.
Stobart said trading conditions remained "tough".
The company reported that its transport division margins had been improved through "more effective financial control and cost management".
Carlisle-based Stobart is in the process of restructuring its underperforming chilled business, which it acquired in 2008 for a nominal amount.
It has closed several UK sites and reduced its fleet size in a bid to create a smaller and more profitable operation.
In its interim results, Stobart said the restructuring had been "more challenging, costly and further reaching than first planned" as a result of the continuing challenging economic environment.
Chief executive Andrew Tinkler said: "We have worked hard to improve margins and profitability in our core transport business despite tough trading conditions.
"We are well under way with delivering the stated plan for the group."
Stobart has a significant presence in Scotland.
Earlier this year, it established a new distribution facility at Eurocentral business park in Lanarkshire.
The firm said the move would help it meet growing business demand from central Scotland.